Use entire national capacity to step up Covid vaccine production, PM tells officials – Times of India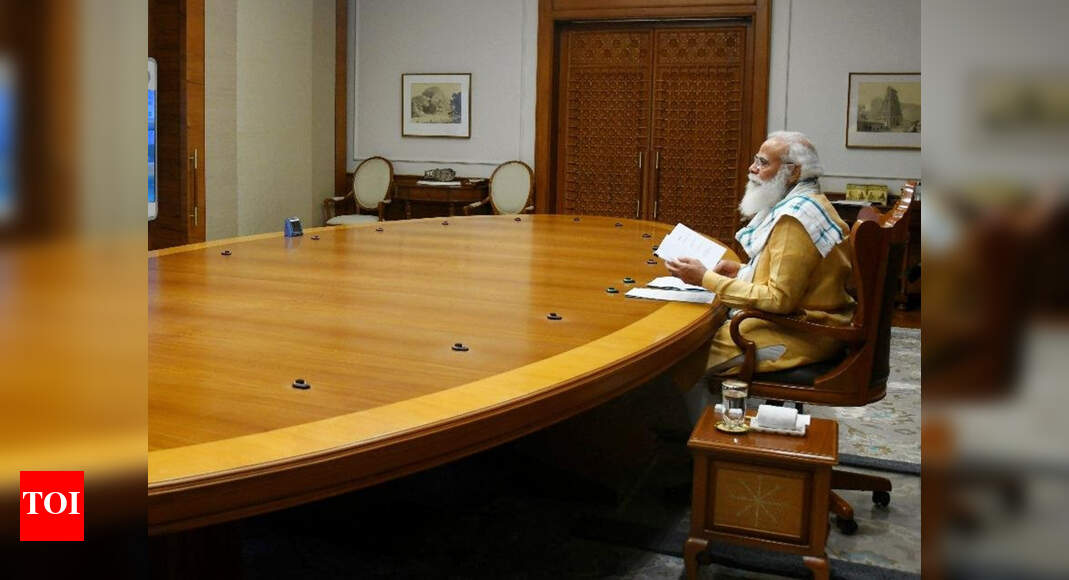 NEW DELHI: Amid a record spike in Covid-19 cases, Prime Minister Narendra Modi on Saturday directed officials to make all efforts to utilise the entire national capacity, in public as well as private sector, to ramp up vaccine production.
The PM's directive came at a review meeting on the Covid situation on Saturday a day after he had overseen an assessment of oxygen supplies and production and distribution and the government announced stepped up support to Bharat Biotech's Covaxin and also financial grants to specific facilties in private and public sector to increase vaccine production.
India has so far administered a total of 12.25 crore doses of Covid-19 vaccines till Saturday 8pm. Of this, 1.61 crore are second doses. In a separate meeting with high burden states, the health ministry noted India is clocking the fastest case growth of 7.6% in new cases, 1.3 times higher than case growth rate of 5.5% reported in June 2020.
The growth rate of cases is leading to a sharp rise in daily number of active cases, currently at 16.7 lakh as also a growth of 10.2% in deaths.
As daily cases rose to 2,34,692 and 1,341 deaths were recorded on Friday, the PM called a meeting with top officials to review the status of preparedness to handle the pandemic as well assess aspects relating to medicines, oxygen, ventilators and vaccination.
Modi asked officials to work in close coordination with states, where already more than 50 central teams are deployed in districts with high cases, to manage the pandemic. He said all necessary measures must be taken to ramp up availability of hospital beds for Covid patients and directed additional supply of beds through temporary hospitals and isolation centres be ensured.
On a day when Centre's discussions with pharma majors led to a lowering of Remdesivir rates, the PM reviewed the availability of the life-saving drug used in treatment of hospitalised Covid-19 patients. He emphasised on the need to utilise the full potential of the local pharmaceutical industry to ensure adequate availability of medicines.
The production capacity of Remdesivir has been increased to deliver around 74 lakh vials per month in May, against the normal capacity of around 27-29 lakh vials a month. "Supplies have also increased from 67,900 vials on April 11,2021 going up to over 2,06,000 vials on April 15, 2021 which are being particularly focused on states with high caseload and high demand," the government said.
Modi asked officials to ensure issues relating to real-time supply chain management to states be resolved urgently and misuse and black marketing of pharma products strictly curbed.
He also asked officials to speed up installation of approved medical oxygen plants to cater to the rising demand. Besides, supply of oxygen required for production of medicines and equipment necessary to handle the pandemic should also be ensured, he added.
The Centre is working to expedite completion of 162 oxygen manufacturing plants at hospitals that have been sanctioned under PM-Cares. The officers informed that 1 lakh cylinders are being procured and will be supplied to states soon. The officers briefed the PM that they are in constant touch with 12 high burden states in assessing the current and future requirement of medical oxygen. A supply mapping plan for 12 high burden states till April 30 has also been undertaken.
The PM also reviewed the status of availability and supply of ventilators. The PM noted that a real time monitoring system has been created and directed that concerned state governments should be sensitised to use the system proactively.
Emphasising on the strategy of testing, tracking and treatment, PM said early testing and proper tracking remains key to reduce mortality. He also said that local administrations need to be proactive and sensitive to people's concerns.