Imran writes back to PM Modi, says Pakistan also desires peace – Times of India
NEW DELHI: Pakistan Prime Minister Imran Khan on Tuesday responded to his Indian counterpart Narendra Modi's Pakistan Day message, saying that people of his country also desire peaceful and cooperative ties, reported Dawn website.
PM Narendra Modi had written to Khan on March 23 and extended greetings to the neighbouring country on the occasion of Pakistan National Day.
In his letter, Modi said India desires cordial relations with Pakistan and underlined that an environment free of terror was imperative for improvement in ties.
Thanking PM Modi for his message, Khan said, "The people of Pakistan also desire peaceful, cooperative relations with all neighbours, including India."
However, Khan said that durable peace and stability in South Asia is contingent upon resolving all outstanding issues between India and Pakistan, particularly the Jammu & Kashmir dispute.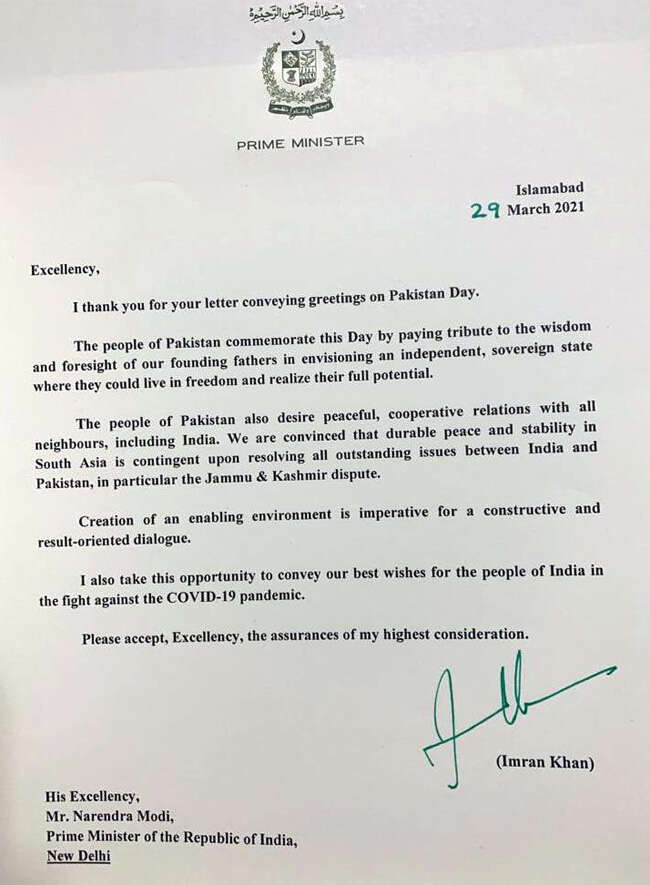 "Creation of an enabling environment is imperative for a constructive and result-oriented dialogue," he wrote.
The Pakistan prime minister also conveyed his best wishes to India in its fight against the Covid-19 pandemic.
The recent ceasefire agreement between India and Pakistan has sparked hope of a thaw in ties.
Imran Khan and Army chief Gen Qamar Bajwa have reached out to India in the recent past with the latter saying earlier this month that it was time to bury the past and move forward.
While India too has toned down the rhetoric on terrorism, it wants to wait and see if the ceasefire holds before taking any decisive step to resume bilateral exchanges.