Assam EVM row: EC suspends four poll officials, orders repoll – Times of India
NEW DELHI: The Election Commission of India (ECI) on Friday suspended four poll officials in Assam's Karimganj who hitched a ride with a polled EVM in the vehicle of a BJP candidate yesterday.
The poll panel has also ordered repolling in the booth.
"Presiding officer was issued show-cause notice for violation of transport protocol. PO and 3 other officials placed under suspension. Although EVM's seals were found intact it has been decided to do a re-poll at No 149- Indira MV School of LAC 1 Ratabari(SC)," EC said in a statement today.
"EC issues factual report on incident involving EVM in Assam. Polling party 149-Indira MV School of LAC 1 Ratabari (SC) met with the incident. The party comprised a presiding officer and three polling personnel. They were accompanied by police personnel comprising a constable and a home guard," EC said.
Explaining the incident, the EC further said, the polling party realised they were in BJP candidate's car only after the car was intercepted by a mob of 50 persons (who also pelted stones) and the team was told by the mob leader that it was the BJP candidate's car and alleged that EVMs were being taken four tampering.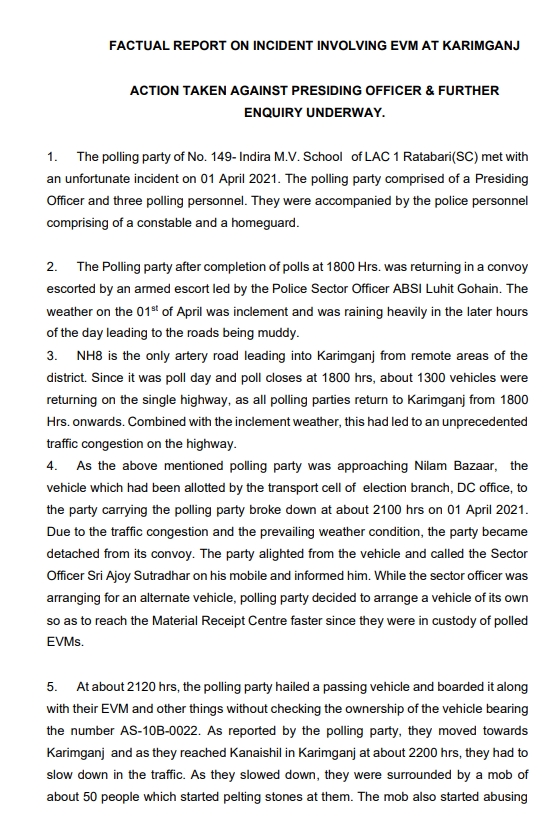 "At about 9:20pm, polling party hailed a passing vehicle and boarded it along with their EVM and other things without checking ownership of vehicle. As reported by them, they moved towards Karimganj and as they reached Kanaishil, Karimganj at 11:00 pm, they had to slow down in traffic," EC added.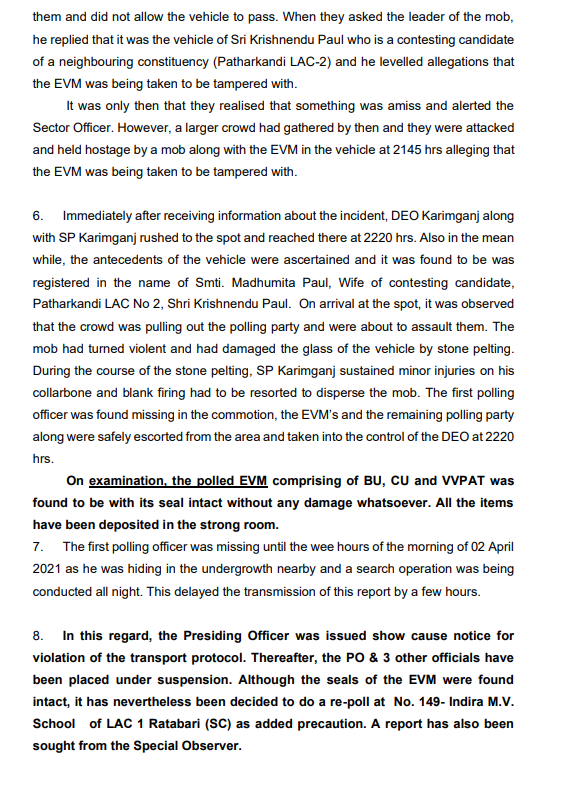 EC की गाड़ी ख़राब, भाजपा की नीयत ख़राब,लोकतंत्र की हालत ख़राब!#EVMs

— Rahul Gandhi (@RahulGandhi) 1617345976000
"As they slowed down, they were surrounded by a mob of about 50 people which started pelting stones at them. The mob also started abusing them and did not allow the vehicle to pass," the Election Commission further said.
"When they asked the leader of the mob, he replied that it was the vehicle of Krishnendu Paul, a contesting candidate of Patharkandi and he levelled allegations that EVM was being taken to be tampered with. They realised that something was amiss and alerted the sector officer"
2. The videos are taken as one off incidents and dismissed as aberrations3. The BJP uses its media machinery to… https://t.co/yeqxutYd4k

— Priyanka Gandhi Vadra (@priyankagandhi) 1617333322000
On examination, the EC said that the polled EVM comprising of BU, CU and VVPAT was found to be with its seal intact without any damage whatsoever. All the items have been deposited in the strong room.
The second phase of Assembly polls was held in 39 constituencies across 13 districts of Assam on Thursday. A voter turnout of 74.76 per cent was recorded during the second phase.
Polling for the third and last phase will be held on April 6 and the counting of votes will take place on May 2.
(With inputs from agencies)